---

---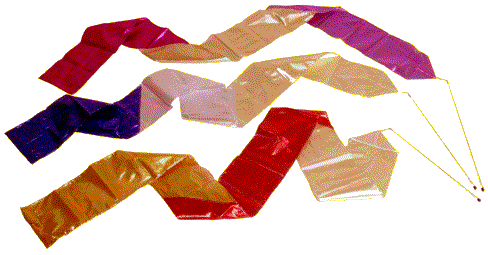 Our Multi-coloured Streamers are a real luxury item! 3 metres in length, they are made in 3 vibrant colours and 20cm wide. This allows the material to retain its shape as you move and dance. Like the longer ribbons, they are mounted on a carbon fibre gymnastic wand for durability and ease of use. Colours used include all of those available for our flags, plus other iridescent or translucent materials from time to time.
Here are some "standard" streamers which we supply, although others are available. Please note that the colours illustrated here are for illustrative purposes only, and do not accurately reflect the vibrant colours of the lamé material used in the actual streamers!

"Holy Fire"
Gold / Red / Bronze
"Majesty"
Purple / Gold / Cerise
"River of God"
Green / Silver / Blue
"Celebration"
Gold / Bronze / Bright Gold
"Holy Spirit"
Blue / Silver / Opal
"Glory"
Gold / Red / Bright Gold
"Healing"
Silver / Pink / Green
"Salvation"
Red / Green / Silver
"Jubilate"
Red / Gold / Purple
"Restoration"
Black / Red / Gold
"Bride"
Gold / Silver / White
Prices:-
Multi-coloured Streamers with wands - £19.00
For details of how to place your order see our contact page.
If you can't see our Menu on the left of this page, showing all the different resources available, you're trapped without a Base Frame. Click here to return to our Main Frames Page
Return to top of page