As we described on our home page, Marie Bensley has wide experience in the realm of Christian dance, and a powerful ministry in leading workshops, seminars, and creative arts weekends. She has a teaching ministry nationwide, and over the last 6 years has also taught at various locations and conferences abroad. In recent years her husband Andrew has also assisted her when his work commitments allow. They have a testimony of God bringing healing in their marriage which was triggered through Christian dance, and this brings a strong anointing when they dance together. Workshops can be tailored to the needs of the church or group concerned, and can, if you wish, emphasise the use of flags, twirling banners, ribbons, streamers and/or tambourines. Prophetic dance, spiritual warfare and intercession with flags is another area which can be taught. Click here to download a copy of Marie's flyer.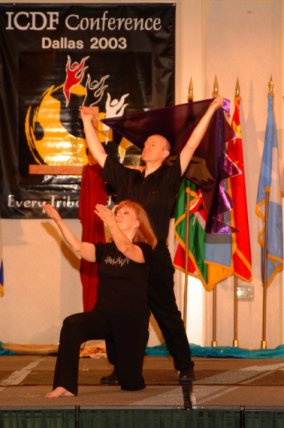 These gifts have already been put to use in the following ways:-
Spring Harvest
For the last 7 years Marie has taken the dance workshops and led dance in celebrations for Causeway PROSPECTS. Over the same period she has also worked on the Legacie and Powerpack teams in family celebrations at Minehead, Skegness and Weymouth.
Kingsway Weekends
Marie is part of the "Kingsway" teaching team assisting in the leading of day conferences and weekends across the United Kingdom. Since 1999 Marie has led seminars on dance, drama and using flags in worship at the "Children's Ministry" weekends and day conferences organised by Kingsway. She has also taught at their "Worship Together" conferences and at day events.
Christian Dance Fellowship of Britain and International Christian Dance Fellowship
As one of its Regional Co-ordinators, Marie takes regular monthly area workshops for the Christian Dance Fellowship of Britain, as well as taking part in various regional events. Marie has been appointed joint international co-ordinator for the Flags and Banners Network of the ICDF. She taught at the ICDF Creative Arts Conference in Sydney, Australia in 2000, as well as at the 2003 Conference in Dallas, Texas, USA, and again in 2006 in Kuala Lumpur, Malaysia.
Schools & Children's Groups
As well as taking dance workshops for children in churches and youth organisations, Marie has been used by schools in leading drama/movement assemblies, and in schools workshops at Wells Cathedral.
Many of Marie's workshops focus on the use of flags in praise and worship. These can be tailored to the needs of the church or group concerned, and will include teaching on both choreographed dance with flags, and inspirational worship dance with flags. If appropriate, she will teach on using flags in spiritual warfare, and on subjects such as using flags and material prophetically, in healing and in intercession.
E-mail us (CLICK HERE to e-mail us)for details of fees and Marie's availability
If you can't see our Menu on the left of this page, showing all the different resources available, you're trapped without a Base Frame. Click here to return to our Main Frames Page
Return to top of page